Members
Willie
Vince
Clifton
Rodney
Tony
Pictures
Fishing
Baits
Knots
Rigs
Tackle
Information
Tournaments
Clubs
Manufacturers
Equip Suppliers
Bait Shops
Govt Depts
Other
Links
Recipes
Webmasters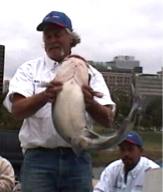 Willie
I began fishing at the age of 5 with my father at a nearby pay pond. If my uncles or grandfather ever needed a fishing partner, I was always there. By the age of 10, I would call my dog, get on my bicycle and head to Salt Creek which was 3 miles away from my home in Lincoln to fish. For punishment, for something which I probably didn't do, my father would ground me by not allowing me to go fishing. The longest I was ever denied the right to go fishing was 2 weeks and I was lost. Now, I am a 47 year old technical writer and never a day goes by that I wish I wasn't fishing. I live along the banks of the Sangamon River near Riverton and if I am not fishing a tournament somewhere you can bet I'm on the Sangamon.
I began fishing catfish tournaments 5 years ago with my dog (a different dog, you know dogs don't live forever) but the rules changed and I needed a partner, so I hooked up with Tony. Tony is a lot better fisherman than my dog and talks a little bit more.
This year I am fishing with Vince in the USCATS tournaments and Tony in a few ICA tournaments and all the Lake Springfield Open Buddy Catfish Tournaments. I use 4500 and 6500 Shimano Baitrunner spinning reels strung with 20 lb. and 50 lb. P-line on 8ft. medium/heavy Packhawk and American Premier rods. I use a 7 ft. graphite flippin' stick with a Garcia 5000C baitcaster spooled with 20 lb. P-line for more accurate casting and when I plan on moving the bait along in current.
For tackle I prefer 3/0 to 8/0 kahle and 5/0 to 10/0 circle hooks. I threw away all of my old spark plugs and use 3 oz. no roll, 1/8th to 1.5 oz. egg and 3 oz. to 5 oz. bass casting sinkers depending on how and where I am fishing.
You won't miss us, we are in the Yamaha powered big green boat with TeamWhiskers plastered on the side of it.
See ya at the weigh-in.