Members
Willie
Vince
Clifton
Rodney
Tony
Pictures
Fishing
Baits
Knots
Rigs
Tackle
Information
Tournaments
Clubs
Manufacturers
Equip Suppliers
Bait Shops
Govt Depts
Other
Links
Recipes
Webmasters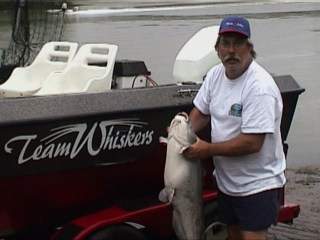 Vince
From St. Louis

In just about any sport there will always be an incredible almost magical thrill that will keep up the interest for a lifetime once you get hooked. There is nothing more exciting than hearing your number called in a tournament, waving the American Flag, putting the throttle down and taking off into the unknown on an adventure. The feeling of something lightly touch your secretive bait rig as you set the hook for a exhilarating fight that will unfold will always keep you coming back. The personal reward with each instance will always be an experience to remember a lifetime and be told for generations. Of course, we all know how those trophy catches seem to increase in size and weight over the years….
Willie told me several years ago around the camp fire the idea of forming a team in order to cover the various catfishing tours. So knowing my way around the Internet, I suggested that we go ahead and get a .com and what was the name. TeamWhiskers was started and soon after, put on the web as I volunteered to be the webmaster for his team. I was extremely honored when he asked me to fish the USCats tournament tour with him and to be part of this team.
I grew up fishing the White River for trout with my father for as long as I can remember. Fishing for Crappie at Lake Canton with my grandfather and buddy Bill and my other grandfather for catfish on the Illinois River still gives me many memories. I started flying airplanes at 16 so we could get to Arkansas faster to that favorite hole. Looking back now, it appears that I was always taking the boat out looking for the channel that I just flew over a few days prior.
With the Sport of Catfishing being on the incline, designing equipment is one of the most rewarding experiences that I have accomplished. The industry really needs new equipment that is not adapted and or hand me downs from the other industries. I have finally designed the various types of poles that I use for multiple techniques we use and the Shimano Baitrunner 4500 and 6500 are the reels of preference currently. The rigs and bait I use are still a closely guarded secret similar to your favorite mushroom patch or fishing spot. I am looking very forward to the 2013 season fishing for fun and pleasure..
See you on the Water! ... V