Members
Willie
Vince
Clifton
Casey
Savanna
Tony
Pictures
Fishing
Baits
Knots
Rigs
Tackle
Tips New!
Information
Tournaments
Clubs
Manufacturers
Equip Suppliers
Bait Shops
Govt Depts
Other
Links
Recipes
Webmasters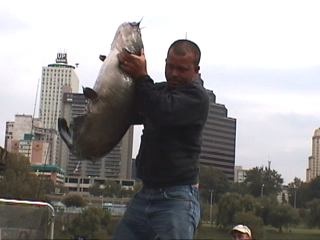 Clifton
From Lebanon, Tennessee
2002 USCATS World Cup Champions
Growing up in the bottom of a boat with my father carries most of my childhood memories. A ten foot john boat with no motor, just a paddle and a box full of plastic worms. Dad would always set up front and paddle while we talked about life and way things are. We grew up together in the bottom of that boat.
As age took over, we would not even consider using a paddle today. We drive 200 horse engines while we set back and let the boat do all the work for us.
In the third grade, we had a choice of riding our bikes home for lunch or staying at school to eat. After a little thought, I figured out that if I told mom that I was eating at school and the teacher that I was going home for lunch, I could fish at the local pond for about 45 minutes every day. Hiding my fishing pole in a hollow log, was all I needed for a great lunch every day. Well this worked for a little while until the teacher caught on to my fish smell every day after lunch. Dad was not as mad as mom was, but it was fun while it lasted.
In short, take a kid fishing, take your parents fishing, there is nothing more enjoying than seeing a loved one reeling in a fish. They say that families that eat together stay together, Well, families that fish together also will stay together. So take a kid fishing, the memories will last a lifetime.

Email