Members
Willie
Vince
Tony
Pictures
Fishing
Baits
Knots
Rigs
Tackle
Information
Tournaments
Clubs
Manufacturers
Equip Suppliers
Bait Shops
Govt Depts
Other
Sponsors
Links
Recipes
Webmasters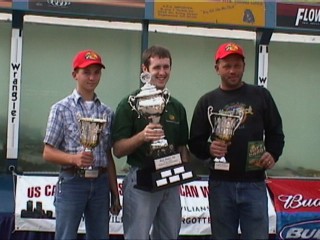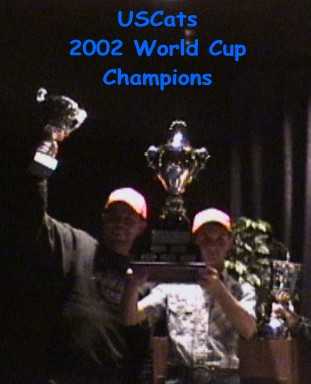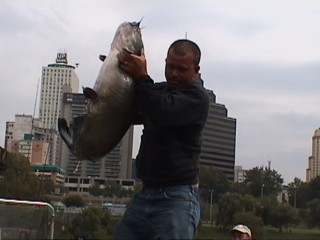 World Champions
USCATS World Cup Championship
Mud Island
Mississippi River – Memphis

Ok! Here Is My Story
by Clifton Crutcher
On Tuesday Oct. 22nd I drove to Memphis and checked into my motel room. I had never been to Memphis to fish before so, it took me awhile to find the boat ramp. After finding the ramp and getting my boat into the water, Mike King showed up. What a great guy. Mike, has more heart than anybody I have ever fished against in a catfish tournament.
I left the ramp and went up river to find a fishing hole. Two wing dikes later, I decided that if I was going to catch fish in this river I needed to fish close to the bank and out of the current. I found a spot behind a small island where the water was 8 to 10 feet deep dropping off into 32 feet. There should have been some fish there but there wasn't. So off out into the river I went. I anchored my boat along a point on the west side of the river and before I knew it I had a 25 pound flathead in the boat. 45 minutes there were no more bites so, I decided since it is getting late and dark that I would to go back to the motel and try again Wednesday.
So on Wednesday, I went back out to find just about the same things I had found on Tuesday. Leaving the water around 2 o'clock, I went to Lebanon to pick up, Rodney, the best fishing buddy I have ever had since my father David Crutcher. Rodney, is a great young man who is home schooled by his grandfather (Leener Dunnam). The 240 mile trip to Lebanon and back went real smooth. Rodney has his driving permit so he helps with the driving.
Thursday was one of those days that everything finally came together. Rodney and I headed down river to a hot water discharge to find fresh bait. After netting some small shad, we took off for a spot that at first looked good. Man, we had no idea that it was going to be that good. I asked Rodney if he minded if we split up and he try fishing down the bank in a cove while I stay in the boat and fish. Off he went and about 15 minutes later, Rodney sets the hook. At first he said, "I got a good one", but to me it looked like he was hung up. Well, he was hung up in the mouth of a 59 pound flathead. Nice fish for a young man of his age. To be there with him was the greatest feeling I ever had and to just watch him catch a fish of that size. After that, we decided to leave and go find another hole.
Back up the river there was a wing dike with an island behind it. We went there and found 28 foot of water. We anchored our boat in 12 foot of water and casted into the deeper stuff. Bam, a 35 pound blue. Time to go. Down river I found a point that looked the same as the one Rodney had caught his fish on earlier. This time we stayed in the boat. We turned the boat into some slack current and started fishing. About 10 minutes into this, I got a little bite, then a little bigger bite, then holy smokes, when I set the hook it was like a run-a-way horse was going to drag me down the road. This fish hit so hard he almost pulled me out of the boat. It was another flathead and he weighed 71 pounds, according to my scale. What a day this was. Friday, Rodney and I went up river one more time. This time to catch few little fish to put in the hog trough. Well, we did, 6 to be exact.
Saturday, the day of the tournament, our plan was to catch weight behind the island and then go get big fish. At 11:00 o'clock, we had 7 fish. So, off to one of our big holes. After fighting two barges, we came to our hole where Rodney had caught his big fish. 20 minutes later, Rodney got a bite that was like a train hooked to his rod and reel. This fish was world class. It took a 7 foot Pen Power Stick and made the tip touch the water. Rodney couldn't do anything, but watch as the fish broke his line. It was quite a disappointment to him. He knew that fish would have won this tournament. Oh well, off to our next big hole down river to catch our last remaining 3 fish. At the weigh in, we knew we did not have enough to win but we still got 4th place (480 dollars).
Sunday, was a whole new day. After talking to my Dad the night before Dad said, "go for the big ones not those little ones", so I did. Back to Rodney`s big hole! The first bite was a blue that went about 20 pounds. The second bite was the fish that got Rodney and myself where we are today. This fish was a hog. Rodney was not going to let this fish do him in like the last one did. 45 minutes later, we landed a 48.6 pound blue cat. I couldn't believe it. The young man did it. No matter how much money you have it will not buy you what he and I went through those 45 minutes. What a great feeling!
We didn't catch any more fish the rest of the day. At the weigh-in, we didn't think we could beat the guys who won Saturday's tournament. But we did. I say we, but Rodney caught the fish. You see… I made a deal with Rodney, if he would get his grades up, I would take him to catfish tournaments. He did what he said he would do and I did what I said I would do. Together, we both got great rewards. But most of all, we did it together.
Take a kid fishing…it will last him a lifetime…just ask my Dad.
Clifton Crutcher
U.S.C.A.T.S. 2002 World Cup Champion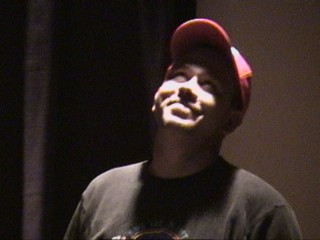 Email Clifton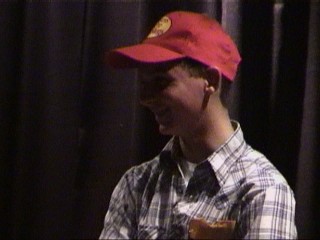 All Pictures are copyrighted 2002 by Team Whiskers
Editorial is copyrighted 2002 by Clifton Crutcher
Special thanks to Clifton and Rodney for allowing us to post this on our site.